Croatia is by far the most popular destination for everyone who wishes to enjoy Mediterranean beaches, culture, food and nature. Unfortunately, you probably won't be able to book to go here with a travel agency this year. Booked holidays are increasingly getting cancelled and you cannot rely on anyone but yourself if you want to visit this beautiful Slavic seaside country.
Instead of hotels that keep you static and in one location near a beach and one piece of sightseeing for a week or two, you would be better off with a much wider view of Croatia. That is if you set off with a caravan! You can move from place to place without any difficulties – practically whenever you want. We regularly include the coast of Croatia and its' inland in our journeys through Europe. This destination, which can be known for lounging on crowded beaches, becomes much more adventurous thanks to a caravan. Here's what you need to know in advance, places to go and what is worth to see in Croatia.
What not to forget
Traveling around Croatia with a caravan has its specifics that you must always keep in mind. First of all, it should be noted that camping in the wild is strictly forbidden in the whole country. The police will very quickly come to check on anyone outside all designated campsites, including a long parking stay or highway rest areas (which you can sometimes stay overnight with a little luck). Even though you have a lot of freedom with a caravan in Croatia, it is not a freedom with no rules. There are only a few Stellplatzes (places to park overnight legally) in the whole of Croatia. If you do your research, you can find some caravan stays on the Island of Krk or near some national parks.
However, the vast majority of caravans have to park in campsites. Thankfully these are generally very well-equipped sites, mainly concentrated on the coast. Large coastal campsites tend to be quickly booked during the summer season, so we would recommend booking in advance. Smaller campsites on the islands or inland (fewer of them there) do not tend to book up so quickly. However, if you are talkative or can cleverly communicate with your hands and feet, you can still avoid main campsites. Our suggestion is to park on many private plots as part of your own arrangement with the owner, sometimes just for a small fee.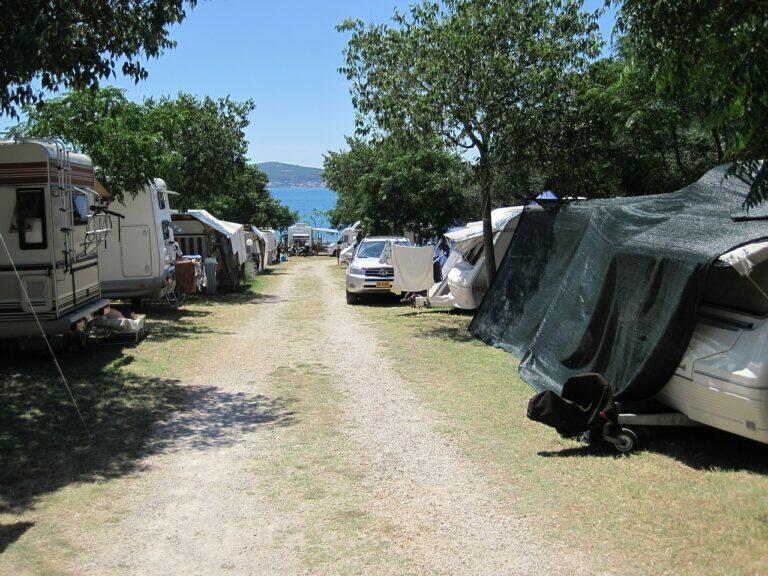 Where to go?
Every year, many people travel to Croatia by car, and the roads usually look the part. You can usually drive the journey of 1,000 kilometres from Prague to Split in about 12 hours, but only if you pray to the traffic Gods. A trip to Croatia in one-go with a caravan is, however, a crazy idea. Popular routes through Austria or Slovenia offer a large number of rest stops, where you can relax from the hustle of the highway driving, but also see some beautiful places.
The most recommended route through Austria will take you not only to Vienna, but also to Graz or Gradec. This is Austria's second largest city and it is an important cultural centre with unique architectural monuments. Graz has in its vicinity a large number of hiking trails that are definitely worth walking. During our visit to Styria, we decided to park in the Almenland Camping site, which is located directly on a large farm and offers a wide range of activities. The kids were very pleased and enjoyed the pony rides for sure.
Before crossing over to Croatia, you will also find a piece of Slovenia around Maribor city, which is located on the river Drava. In Maribor itself, be sure to try the local wine or relax in their thermal baths. From the town, we recommend you go hiking to Lake Brestmiško or the Šumik waterfalls. You can park up in the famous camping centre Kekec near Maribor city.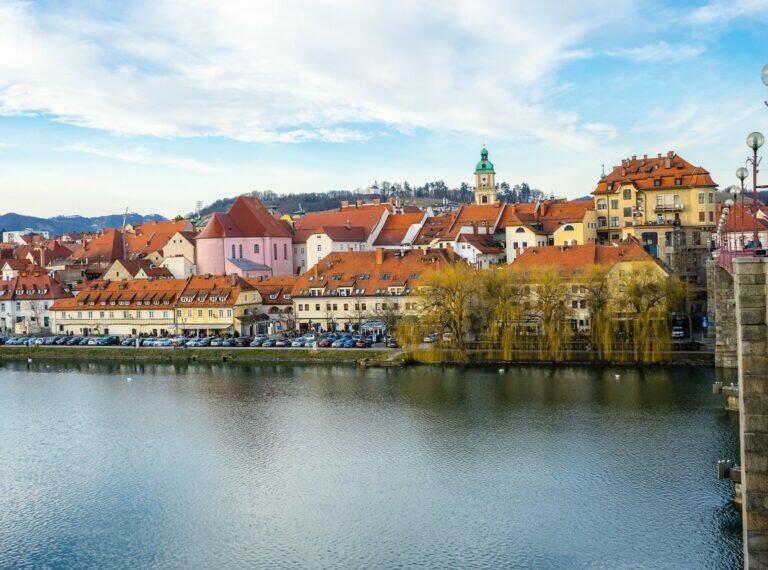 Dalmaria (Zadar and Šibenik)
We have driven up, down and across Dalmatia and we are not the only ones. During the summer, you will come across more tourists than Croatians. We are most attracted to the area around the city of Zadar, which boasts an exceptional historic centre and a unique Sea Organ player. The sea is always clear and pine forests are always tempting you for walks. Instead of large holiday resorts, we usually choose the smaller Autocamp Peros, where you can, among other things, kick back and relax in a pleasant pizzeria.
The Šibenik area is a magnificent piece of Dalmatia, whose biggest attraction is the Kornati National Park. From the coast you can set out to explore dozens of uninhabited islands and cliffs. If you are still tempted by lounging on the beach, we highly recommend parking up in the resort Solaris by a beach with pebbles or sand. There are also a large number of restaurants, playgrounds and relaxing places around here.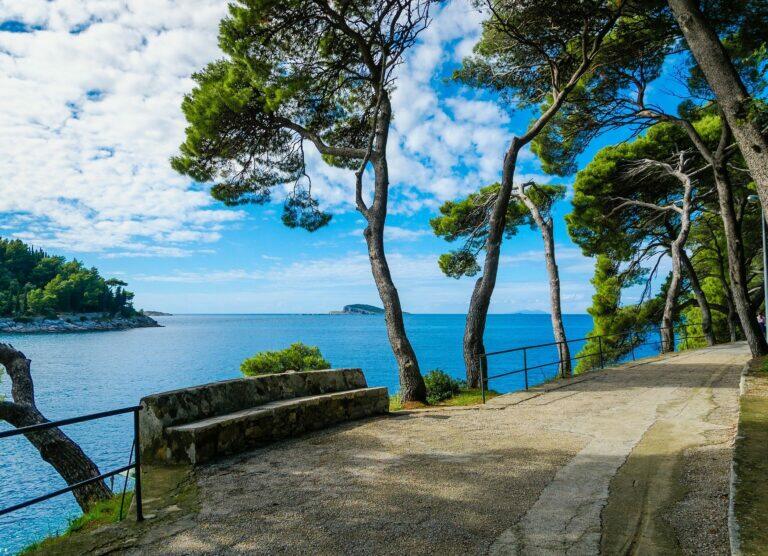 Island of Krk
Every Croatian visitor knows that they should not expect large sandy beaches here. An interesting exception to this rule is the island of Krk. In addition to the island swimming, we particularly enjoyed the opportunity to dip in the healing mud on the Melina beach and the waterfalls on the river Krka in the local national park. You can park directly on the island in Ježevac Premium Camping Resort, which features a rich cultural program for adults and all-day entertainment programme for children.
Istria
Another very popular destination, where we like to come back to. An area dotted with beaches also contains fishing villages with the most Mediterranean atmosphere you will find in all of Croatia. If you head out for a stroll, you will always find a small bay without people, where you can take refuge on a beautiful, carefree afternoon. On the coast, we recommend anchoring a caravan near one of the above-mentioned fishing villages. We have parked up in the Autocamp Draga on the eastern Istrian coast several times in the past. The campsite is as quiet as the town of Mošćenička Draga, which is only about 100 meters away from the campsite and leaves you a 3-minute walk away from the beach.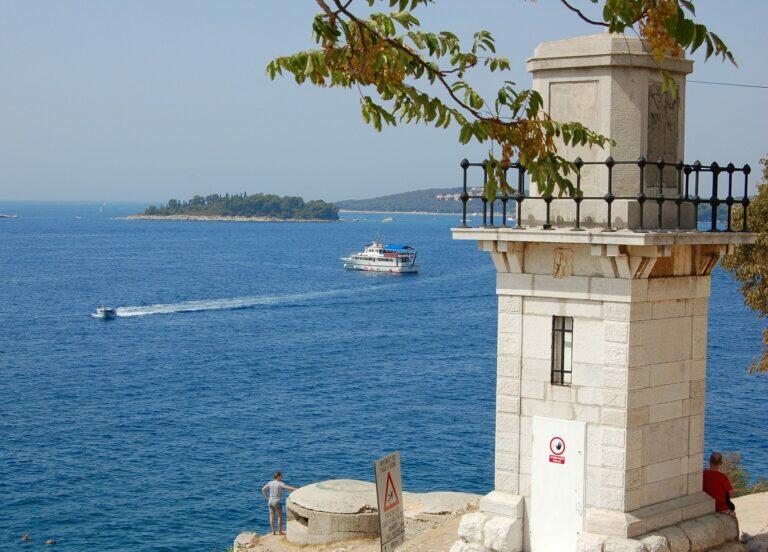 Plitvice lakes
Plitvice Lakes is a national park located in the Croatian region of Lika-Karlovac. A walk between 16 clear lakes will always amaze us with its unfettered and immaculate local nature. Karst lakes are connected by a system of cascades and waterfalls, which with the surrounding forests is a must-see, even if it's based in a more remote part of the country. Park the caravan just a few kilometres from the entrance to the national park and in the middle of beautiful nature, in the Camping Kempana Korana. The campsite is located in the immediate vicinity of the river, which during the summer months seductively entices you to swimming.
Iz
A secret tip for those who think they have seen all of Croatia. You can get to the island of Iž by a ferry from Zadar. You can then admire the unknown part of Croatia, where the Croats themselves go for a holiday. We always park up in Campsite Iž, a small family camp, which we recommend as there is definitely no danger of being in an overcrowded place.